5 Tips for Travelling with Your Baby After A Surrogacy Birth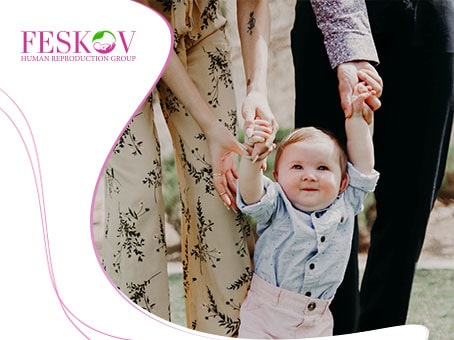 Oct 15, 2020
Ordinary people, as well as prospective parents, when trying to understand such a selfless act, often wonder about the formation of a surrogate mother's attachment to the fetus in the abdomen. How do you give up a child you've been bearing for nine months? The key to understanding lies in the fact that initially it is not her child, but only a responsible job. 
Feskov Human Reproduction Group implements guaranteed VIP-class surrogacy packages. This means that, in addition to the standard set of services, patients can choose an exclusive that suits them. With the involvement of a surrogate mother with positive experience and recommendations, without a waiting list, with gender selection, and other advantages.
What happens before the baby is born?
Even before the future parents hold their treasure in their arms, the legal team of the clinic or surrogacy agency must take care of the full package of documents regarding the existing situation. Throughout the childbirth process and the period of rehabilitation of the surrogate mother, lawyers keep in touch with the parents, and, if necessary, with their lawyers. Thus, they draw up the documents required to discharge the child into parental care.
Usually, by the time of discharge, all legal issues have already been practically resolved, and the documents are already in the clinic. But, even if additional paperwork is required, parents can still take the baby home from the hospital. And calmly wait for the completion of legal issues already in a more comfortable, not hospital, environment. Since, the process can sometimes take a long time.
The very last and most exciting step for new parents is to take the baby home,to their homeland! A surrogate baby is no different from an ordinary baby. However, many parents do not know how to prepare for the trip.
Legalization of a surrogate baby
It seems to happy parents that strangers may suspect them of something, stop and check documents confirming that this child is theirs. No, this is not true. However, the sooner they receive all the standard documentation for the child, the better. At least for your own comfort. Therefore, before going on a trip with a baby, you should put these things in order.
In Ukraine, our lawyers provide a state-recognized birth certificate for the baby, where the names of the genetic parents are entered, as well as the passport of a citizen of Ukraine. The passport serves as an international travel document so that the child has the right to travel outside the country with their parents. Also, our team facilitates the registration of a newborn at the consulate of the country concerned. And after arriving home, parents pass legalization procedures in accordance with local laws: they receive local citizenship, an insurance card and other documents that are legally required.
Time of adaptation of parents and child
It is natural that future parents strive to return home with their baby as soon as possible, to a familiar environment, to a "normal life" that they have been deprived of for about a year. And also to please family and friends with such wonderful news. However, it is worth remembering that this initial "first meeting" time will not last forever. You can enjoy the precious moments of merging with your loved one, slowly plunge back into the hassle of travel and journeys. In addition, there are two good reasons why you should not rush home with your baby:
It is advisable to spend more time with the surrogate mother and her family. It will be very pleasant and important for her to watch the renewed happy family of real parents after the birth of the baby. A useful tip for parents is to be with the mother in childbirth as much time as possible, even if you can't wait to be alone with a new family. This is very important for future good relations with the surrogate mother and fond memories after the end of the process.
Time is needed to ensure that your baby is in good health and well-being. Usually, the little ones can travel easily, even at a very early age. However, from a few days of communication and adaptation to the world, you can only get benefits for yourself and your baby.
These first few days or weeks are the most unique times for new parents. They are all new, they cannot believe their happiness. And the staff of our clinic will make this time as easy as possible, helping with the baby and giving feedback about caring for him.
In Feskov Human Reproduction Group, even the absence of a partner is not an obstacle on the way to finding parental happiness. A special package offer for single people, will help single people who are not married and have no partner, to secure their continuation.
Choosing a travel option
Before you go on the baby's first trip, you should take care of the order of travelling by different types of transport. For example, when booking a flight by plane, you should study the special requirements for flights with newborns, which are presented by this or that airline.
Despite the fact that the plane offers advantages in time, it is better to travel with a newborn by car, if the distance that must be covered to the home allows it. There are undeniable benefits of a car:
less delays along the way;
more freedom of movement;
the ability to make stops at any time necessary for feeding or changing diapers, rest;
less contact with other people, which is a plus for the baby's still fragile immune system, etc.
But on the plane, some couple of hours and - and here is the home, your home!
 The most necessary things in the trip - a package of documents, things for the baby
Our legal team will ensure that all the necessary legal documentation is available at the clinic even before the baby is born. However, it will not be superfluous if parents have copies of the following documents with them, just in case:
surrogacy contract with the clinic;
 contract with a surrogate mother;
custody papers (if necessary);
childbith plan;
information about the insurance of the child and the surrogate mother.
After the parents leave the maternity, they have the following papers with them:
extracts from medical records of a woman after childbirth and a baby;
medical records of the attending physician;
list of vaccinations for the newborn;
brochures on how to care for a newborn;
birth certificate, passport.
Based on our experience, it is advisable to have a dedicated folder for storing such documentation.
Parents may need many things for their baby throughout the trip:
diapers and diaper bag;
nappies, dry and wet wipes;
additional items of children's clothing;
expressed breast milk or formula milk;
bottles;
plastic bags for storing dirty clothes and garbage;
an attachable carrier or a special child seat for a car.
Coming home with a newborn is a very joyous moment. However, you should not take all sorts of cute, but unnecessary things on your trip. Parents need only make sure that their newborn is comfortable, safe, warm and well-fed during the journey home. And cute trinkets and toys can be purchased upon arrival at your destination.
The team of the Feskov Human Reproduction Group will advise parents on any questions they may have and will help pack your things and in other troublesome situations. And you will calmly and confidently go home with the most awaited gift in your life!
Tags:
surrogate motherhood
surrogate services
law
Recommended
Popular
Related
subscribe
Get email updates
Join my mailing list to receive the latest news and updates
All Tags
surrogate motherhood surrogate mother surrogacy HIV IVF AID Ukraine egg donor egg donation news Ukrainian donors law Russia healthy child children health donor of oocytes Europe surrogacy price surrogate services ICI Insemination Artificial Insemination ICSI reproductive doctor Insemination USA artificial fertilization In-Vitro Fertilization Donor Eggs Intracytoplasmic Sperm Injection surrogacy service Biotex Biotexcom fake surrogacy surrogacy scam Italy single man PGD healthy baby infertility diagnosis infertility Czech Republic Georgia surrogate child surrogacy cost celebrity twins childbirth event social freezing contraception private surrogacy Berlin Kinderwunsch Tage african egg donor Canada UK Australia egg donor cost cost of surrogate surrogacy step by step VIP surrogacy France conference Paris clinic agency London israel COVID Belgium Netherlands Portugal Austria Greece Spain Ireland Israel Finland Norway Scotland fertility surrogacy agency mitochondrial transfer
Recommended:
subscribe to our newsletter