Request more information on the services provided by Feskov Human Reproduction Group.
We will put you in direct contact with the manager of the service you selected. You will be contacted as soon as possible.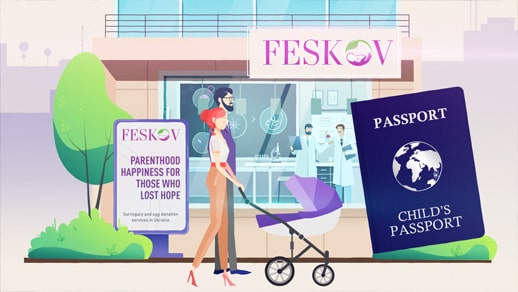 Do you want to start a victorious infertility journey (journey through infertility), at the end of which a child is waiting for you? Welcome to the Feskov Human Reproduction Group! watch the full video
The Feskov Human Reproduction Group provides the following services for surrogate motherhood / assisted reproductive technologies:
Guaranteed result of IVF programs

Unlimited programs IVF + ICSI / IVF + PGD (NGS / Karyomapping)

Individual selection of an egg donor with the selection of a donor according to your phenotype

The donor database for all races / nationalities

Examination of embryo for all anomalies (only healthy embryos are transferable)

Creating a perfect generation of healthy offspring

Determination of the sex of the embryo on a turn-key basis / creation of the child of the sex chosen by you under the guaranteed conditions

Determination of genetic mutations on the embryo

Ensuring communication with a surrogate mother (at your request)

Observance of full anonymity of genetic parents

Pregnancy management / management of the pregnancy with informing about the condition of the fetus and the surrogate mother

all technoogies

Childbirth in a private maternity home with coverage of all risks of a newborn child

Childbirth in Kiev with a full range of perinatal services and covering all risks

Childbirth in CZECH REPUBLIC / USA / CANADA / SPAIN / BELGIUM / RUSSIA / UK /

Provision of guest services while staying in Ukraine: Accommodation / meals / transfer / interpreting services / comfort during the process

Full legal support. Multi-level system for protecting the rights of genetic parents.

Legal settlement of the process of legalization of the rights on the child before receiving a passport

Service of pediatricians and baby-sitters
The Feskov Human Reproduction Group is primarily a modern and high-quality approach to the issues of surrogate motherhood, as well as a proven team of professionals. This is how we differ from other agencies of surrogate motherhood. We are one of the oldest surrogacy clinics in Ukraine. Therefore, based on the large

accumulated experience and knowing the desires and interests of our customers, we offer the optimal sets of services in our packages. We combine high quality and loyalty of prices. These service packages have been repeatedly tested by our customers and, we are sure, will help you finally get the result you expect.
It is important to understand that in every task there are many subtleties. A customer can not know all the details and issues. We solve all the complexities and free our customers from them. Thanks to our experience, you get only an effective and high-quality result.

Guaranteed packages include all the necessary service in order to easily give birth to a child, you just need to come to Ukraine - everything else is our task. If you are in Russia, it is not obligatory for you to come to Ukraine. If you do not have time to come to Ukraine, our managers will organize a guaranteed remote program with the labor of a surrogate mother in any part of the world.)
We draw your attention to the fact that you have the freedom to choose services and our coordinators are ready to provide any services at your request.
Reliability
Guarantee
Comfort
Loyal prices
FAQ
Can you do surrogacy without agency?

Yes, it is possible. However, the selected reproductive medicine clinic should have its own unit that will deal with organizational, legal, financial and logistic issues. Such cooperation is the best: better quality of service and less financial costs.

How do I choose a surrogacy agency?

You can search according to the convenience of the location and the financial proposal or your individual desire. We advise you to look at the agency's guarantee and its reputation.

How do I find a surrogate mother without an agent?

Turn to friends you trust or relatives. In extreme cases, look on the Internet, but beware of scams.
subscribe to our newsletter