Advantages of guaranteed surrogacy programs over programs with guaranteed compensation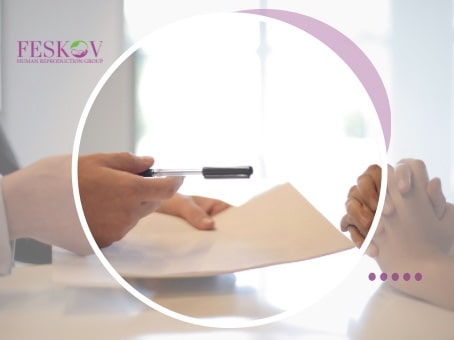 Mar 29, 2023
Today, surrogacy is becoming an increasingly popular area of reproductive medicine, because with its help, people who, for various medical reasons, cannot have a child in the traditional way, get the opportunity to become parents of their genetic baby.
Long years of attempts, exhausting examinations, worries- thousands of people around the world who are faced with the problem of infertility go through all these stages in a circle and often lose hope.
In order to help just such people, we at Feskov Human Reproduction Group have developed a guaranteed format for all our surrogacy programs.
What does a guaranteed program mean?
When we say that our package offers are guaranteed, this means that the program will continue until you get the desired result - become the parents of your long-awaited child. You, as a client, are protected from additional costs and unforeseen circumstances - by choosing one of our programs, you can be sure that you no longer have to worry that something might go wrong, that attempts will be unsuccessful.
What does the guaranteed program from Feskov HRG include?
All our packages consist of several stages:
Analytical
This includes all the necessary medical examinations of future parents within the framework of the chosen program, a legal assessment of the legal component (a council of lawyers in migration, family and civil law from the moment the program starts to the full legalization of the child in the country of citizenship of the parents).
Achieving pregnancy with the IVF Method
At this stage, the specialists of our center perform a set of necessary medical procedures, select a healthy embryo and transfer it to a surrogate mother. The number of attempts is unlimited until pregnancy. All medications required by the program are also included in the price.
Monitoring of pregnancy and childbirth
We closely monitor the course of pregnancy of a surrogate mother, all screenings and consultations are included in the cost of the program, as well as subsequent births in Ukraine or in another European country from the list of those with which we work, at the choice of future parents.
At the same time, FHRG assume both reputational and financial responsibility for the well-being of the pregnancy. In addition to medical services, this stage already includes logistics, support, and accommodation. We are also responsible for solving non-standard personal situations of a surrogate mother in each individual case, because a surrogate mother who takes part in our program fully devotes her time and mental balance to carrying your baby - nothing should disturb her or cause inconvenience.
Legal support
Accompanying in the preparation of all necessary documents for the return to the country of residence of the parents.
Depending on the level of the package, its contents may differ, but the main thing remains unchanged - following the scheduled plan: with the registration of a birth certificate in the country of birth and further support at the consulate.
And our support does not end there: if after returning home you need any documents from the clinic or from a surrogate mother - legal registration, adaptation to the law of your country in compliance with Ukrainian legislation, translation, international certification, apostille - we will definitely provide everything.
What are guaranteed compensation programs?
Some reproductive clinics and agencies that provide mediation services for couples who want to take advantage of surrogacy opportunities offer a new payment system - guaranteed compensation. What does this mean in practice? Future parents are promised to return the money (in whole or in part) in case of failure.
Some may find this payment format very tempting, because speaking about the cost of surrogate motherhood, we understand that many families are thoroughly preparing for this process from a financial point of view: someone saves money in advance, someone uses credit funds - the desire to protect yourself and your savings is absolutely understandable. However, it should be remembered that any business process is always aimed at making money. In the case of packages where a clinic or agency offers a program with guaranteed compensation, you need to carefully read the contract - as a rule, it is there that you will find the very "pitfalls": it turns out that only part of the paid service is returned, no additional payments are compensated (for example accommodation, examinations, etc.).
As a result, it is even more profitable for clinics not to work for results, and this is where innovative approaches, all reproductive medicine as a whole, turns exclusively into a business, because it is precisely those clinics that offer such Cashback that, for obvious reasons, do not make guaranteed programs.
Why are Feskov Human Reproduction Group guaranteed programs more reliable than partial compensation programs?
We know how important time is in matters of reproductive medicine. For most couples who come to us, time is the most valuable resource and limiting factor. Yes, in programs with compensation, future parents can insure their money, but no one will insure and return you the time wasted on unsuccessful attempts.
In our guaranteed package offers, all processes are configured in such a way that failure is excluded, therefore we do not promise to compensate for it. We guarantee that if you join one of our programs, it will result in a long-awaited parenthood, because this is exactly what you come to us for. We return hope to those who have lost it and fulfill your cherished dream - to finally hug your genetic baby.
In this article, we do not urge you to choose only the format that we ourselves offer, but we want to save you from disappointment in case of unsuccessful surrogacy experience with dubious programs, where clinics offer their patients compensation for failure. In the case of our guaranteed programs, such failure is simply out of the question.
It remains an open question what the client will get: he will lull his vigilance, thinking that he has protected his savings or pay a little more, but he will show the position of a responsible future parent, for whom the birth of a healthy baby is the main value.
If you want to know more about Feskov HRG guaranteed programs, please fill out the form below and an international manager will contact you to tell you in detail about the possibilities of surrogacy in our center.
Tags:
surrogate motherhood
surrogacy
guaranteed program
Recommended
Popular
Related
subscribe
Get email updates
Join my mailing list to receive the latest news and updates
subscribe to our newsletter