TOP 5 surrogate clinics in Ukraine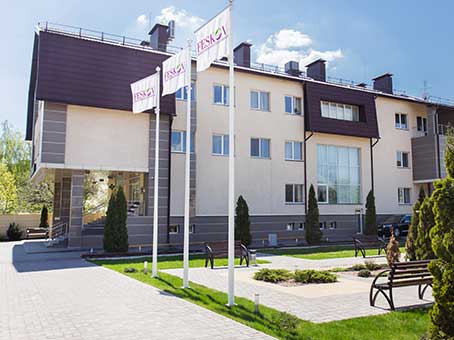 Mar 09, 2020
Thanks to the rapid evolution of reproductive innovations and the assistance of the state, over the past two decades Ukraine has become a real "mecca" for people from all over the world who want to find parental happiness. This was facilitated by favorable legal conditions under which legislation fully observes the interests of genetic parents and legitimizes the services of surrogate mothers and donors.
The degree of development of reproduction in the state is at an extremely high level and meets international standards. In 1991, Ukrainian doctors carried out the first IVF cycle, in 1995 a baby was born to a Ukrainian surrogate mother, and in 2003, a previously frozen embryo was transferred. In 2017, Ukraine got to the same level as the United States when, through the efforts of embryologists, a child was born whose DNA contained the genes of three parents. When considering surrogacy options, intended parents often seek the expertise of the best surrogacy agencies in Ukraine to guide them through the complex and emotional journey. It's essential to thoroughly research and consider factors like success rates, legal support, and the overall experience when determining the best surrogacy clinic in Ukraine that aligns with your family-building goals.
Why should you contact a Ukrainian reproductive clinic?
            For childless couples who have almost lost hope of the happiness of parenthood, contacting one of the Ukrainian reproductive clinics is beneficial in the following options:
surrogate motherhood is completely legal and legally safe, the legislation safeguards the interests of genetic parents - the surrogate mother is obligated to give the baby after childbirth, and the father and mother without delay receive a birth certificate;
 availability of high-tech equipment and modern medical equipment;
high professionalism of reproductologists and embryologists who are engaged in not only practical, but also scientific activities;
use of the most advanced medications and treatment regimens;
 provision of the whole spectrum of quality service (medicine, surrogate / donor bases, lawyers, consulting, transfer, booking accomodation, solution of domestic issues, etc.);
comprehensive "all inclusive" offers with a guarantee that a healthy baby will be born;
affordable cost with the quality of treatment, sometimes exceeding European and American standards.
Not least, it should be noted the attentive and sensitive attitude to patients, an individual approach to resolving the most non-standard precedents, attractiveness, decency, and good physical condition of local surrogate mothers. The huge advantage of working with a surrogacy Ukraine clinic is the cost-effectiveness compared to surrogacy options in some other countries. However, the availability of affordable surrogacy in Ukraine doesn't compromise on the professionalism and expertise of the clinics, making it an attractive option for intended parents.
 The best Ukrainian clinics providing surrogacy services
Surrogacy clinics in Ukraine are renowned for their dedication to ensuring a smooth and transparent surrogacy journey for all involved parties. Today, in the Ukrainian state, 34 specialized institutions are involved in the problems of conception and bearing, and also offer different schemes for surrogacy. Of these, in TOP-5:
The surrogacy agency " World Center of Baby" in Kiev offers a full range of reproductive services. It is known for its comprehensive approach to the implementation of packages of surrogacy.
The clinic of reproduction "BioTexCom" works on infertility problems with couples of all ages in Kiev. Clinic specialists explain the success of their programs using only fresh eggs and embryo transfer on day 5 (blastocysts). The only moment, "BioTexCom" is associated with different scandals. The latter is a sensational incident in the media about the services of surrogacy for an Italian couple, when it turned out that the parents did not have a genetic connection with the baby. As a result, the child was sent to an orphanage, the couple was left with nothing. Criminal proceedings have been instituted against  the clinic.
 The international surrogacy agency «Delivering Dreams» has headquarters in the USA (New Jersey) and branches in Ukraine (Kiev, Lviv). It has been working in Ukraine since the nineties. Live birth success rates are from 41% (surrogacy with own oocytes) to 100% (unlimited package with donation).
Medical Center «IGR» - a leading institution in Kiev, provides healing from infertility of any form. In addition to surrogacy, IVF, donation, it practices intrauterine insemination. Every year, approximately two hundred babies are born thanks to «IGR» doctors.
 Center for Human Reproduction of Professor Feskov A.M. located in Kharkov. It has a clinic in Kiev, Prague (Czech Republic), international offices in Europe, the USA and Canada. Its trick is the " turnkey services without worries" package offers with fixed prices, an unlimited number of IVF cycles until a successful result, warranty obligations for the birth of a healthy baby.
All centers of Ukraine specializing in reproduction work in accordance with standards adopted by the WHO and the European Association for Human Reproduction and Embryology (ESHRE). Conduct thorough research to identify the best surrogacy agency in Ukraine that aligns with your specific needs and values.
Our Customer Service Representatives are eager to help you with whatever you need.
IVF is a key component of many surrogacy journeys. One of the main factors that make a clinic the best IVF clinic in Ukraine is its success rates in helping couples achieve their dream of parenthood.
Center for Human Reproduction of Professor Feskov A.M. – objective choice of patients.
Among Ukrainian and foreign guests, the Kharkov Center for Human Reproduction of Professor Feskov A.M.reasonably has a reputation as a serious and successful medical institution. The clinic has been fulfilling the cherished dream of couples about children since 1995. Its Head is prof. Feskov A.M., a member of the Presidium of the UARM, is a member of ESHRE, ASRM. Alexander Mikhailovich made a significant contribution to the fight against infertility, being the author of more than 160 scientific papers. And the specialists of his team are doctors of the highest category, doctors and candidates of medical sciences, also members of UARM, ESHRE and ASRM.
Feskov Human Reproduction Group uses surrogacy, in vitro fertilization, egg donation, oocyte freezing, mitochondrial transfer, human genomics and other technologies that allow you to find a healthy baby. Clinic patients note the benefits of guaranteed turnkey programs without surcharges, which give 100% results. By paying a fixed price, you can safely wait for the birth of a child. If the IVF was unsuccessful or the surrogate mother's pregnancy was terminated at any time, the whole process is repeated again until a successful birth. At the same time, the surrogate mother fee is already included in the amount.
This Ukraine surrogacy clinic has offers for single people, remote ones for busy patients who cannot leave their place of residence, packages where you can use your own surrogate mother - relative or girlfriend.
The clinic vouches for comfort and safety during the course of any program. The employees of the center take care of everything - starting from domestic issues and meetings at the airport, to filling out the necessary papers for a newborn. And after about a year your son or daughter will be with you!
Tags:
surrogacy
clinic
Ukraine
agency
Europe
subscribe to our newsletter