Why is surrogacy so expensive — what do you pay for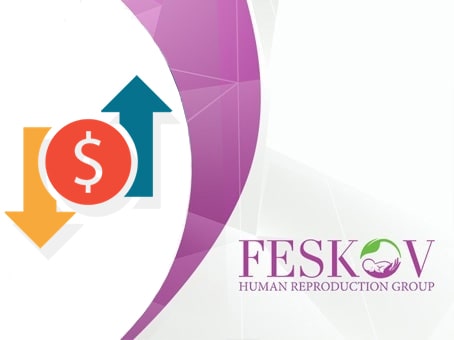 Feb 23, 2020
The desire to have your own baby is the most natural desire for a married couple. But if it is not feasible in a natural way, the couple turn to the help of a surrogate mother. So what are the costs of such a reproduction method?
Surrogacy is a rather expensive service, the price of which depends not only on the country, but also on the medical center. On average, the cost of this ART technology ranges from 30,000 to 180,000 euros. The Feskov Human Reproduction Group has developed guaranteed packages (surrogaсy), donation, in vitro fertilization), taking into account various requests that will help fulfill the dream of parenthood.
What do they pay for in the program?
 The significant price for this reproductive technology is due to the fact that many different factors are involved in the process, which can both increase and decrease the final prices. Conventionally, all costs can be structured as follows:
The cost of medical interventions. This includes examinations, consultations with doctors, IVF, reproductive actions, procedures during pregnancy, childbirth, and others.
Payments to the surrogacy agency for consultations, selection of a medical institution and candidates for surrogacy, paperwork, intermediary activities. But you can save by contacting the medical center directly, bypassing the agency. Indeed, serious reproduction centers have their own databases of verified surrogate mothers and donors, as well as consultants, lawyers and managers.
Legal costs. This is a fee to a lawyer for consultations and paperwork.
Compensation to surrogate mother. In addition to personal rewards for participating in the program, it covers medical costs associated with pregnancy and childbirth, as well as expenses for a special wardrobe, transportation, healthy food, accommodation, etc.
Additional financial costs. These are trips to the necessary country with associated expenses (food, accommodation, communication, etc.), force majeure, insurance, deposit, etc.
This shows that there are mandatory and optional costs.
The cost of surrogate services in the world
        Not all states of the world are loyal to surrogate motherhood. But in Ukraine, Kenya, Russia, Greece, Georgia, USA, Canada it is legalized.
The average cost of the entire service in different countries:
USA – from 110 to 180 thousand €;
Canada – from 100 to 110 thousand  €;
Greece – from75 to 85 thousand €;
Russian Federation – from 60 to 80 thousand €;
Ukraine – from 50  to 80 thousand €;
Georgia – from 30  to 60 thousand €;
Кenya – from 40 to 50 thousand €.
And now we will analyze in more detail the content of the presented tariff. To get started, consider a fee to an agency:
Greece, RF - 8  - 12 thousand €.
Ukraine - 12  - 25  thousand €.
Canada - 12  - 16 thousand €.
USA -  15 - 30 thousand €.
At the same time, agencies most often conclude agreements with medical centers where one or two embryo transfers are prescribed. Since the more money you pay to doctors, the less agency will receive. And in serious medical institutions, embryo transfers are unlimited, until a successful result, as in guaranteed packages of the Center for Reproduction of prof. Feskov.
The basis of the program course is the process of in vitro fertilization, which takes a decent part of the budget:
Greece, Georgia, RFor Ukraine  - 5  - 18 thousand €.
Canada - 15  -  20 thousand €.
USA -  22  - 40 thousand €.
Cost is determined by such moments:
what number of "in vitro fertilization" procedures is necessary for pregnancy;
biological material of genetic parents or a donor (sperm, egg) is taken;
reproductive activities, additional analysis, tests (sex determination, genetic screening, microscopic studies), etc.
It should be noted that quite large costs go exactly to reproductive manipulations, it is especially noticeable in developed countries with expensive medicine (USA, Canada). Indeed, for such delicate and expensive actions, the availability of appropriate technical innovations and qualified specialists is required. Feskov Human Reproduction Group, with the quality level of well-known American and European clinics, has all the possibilities for such procedures. At the same time, it will cost you much cheaper than abroad.
What do reproductive manipulations include?
hormone therapy;
selection of quality embryos;
cryopreservation of embryos;
selection of healthy sperm (PICSI, IMSI);
examination of the embryo for genetic abnormalities and congenital diseases, sex determination (PGD / NGS).
Pregnancy of a surrogate mother takes up a significant part of the budget, since the price of treatment varies from the course of the process, complications and problems after childbirth. And the surrogate mother delivery is also not cheap. Especially if it pass on the American continent. But you can significantly reduce the cost of the service, with its high quality, if a surrogate mother from Ukraine gives birth in the United States. Indeed, the compensation to the Ukrainian will be many times less than the fee of the American surrogate mother.
Thus, the final results are as follows:
IVF - from 5 to 40 thousand € +
Medicine - from 3 to 15 thousand € +
Agency - from 8 to 30 thousand € +
Legal costs - from 6 to 9 thousand € +
Sur.mother fee - from 10 to 40 thousand € +
Related - from 10 to 30 thousand € +
Is it a lot or a little? Is it worth it, it's up to you!
Surrogacy plan
To understand how it works, consider the procedure step by step:
Initial or informational. Future parents chose a clinic / agency, type of service, signed a contract. Then they come to the country where the clinic is located. A meeting, a transfer, a booking of the hotel are arrenged for them. Spouses undergo a medical examination, consult with specialists, select candidates for surrogacy / donors.
Successful achievement of pregnancy. This is an examination of a surrogate mother, and, if necessary, oocyte puncture of a donor, IVF, preimplantation diagnostics of embryos (PGD / NGS), their cryopreservation, transfer of the embryo to the uterus of the surrogate mother.
Monitoring the progress of pregnancy. Monitoring the bearing of the child, the required examinations, tests, insurance and payment of compensation to the surrogate mother.
Childbirth. Delivery of a surrogate mother in the desired country, diagnosis of the baby, care in the early days, surrogate mother fee.
Legal paperwork. This is the legalization of a newborn, obtaining the necessary documents for leaving the country, etc.
More information is available on our website and [1].
 Question -  answer
We will answer the most frequently asked questions:
Is it possible to talk with a surrogate mother? Yes, we give such an opportunity.
Are there any guarantees during the program? When concluding a contract with the Center for Reproduction of prof. Feskov, you can choose one of the most comfortable guaranteed programs, which in one hundred percent of cases will result in the birth of a healthy baby.
If it is not possible to come often, is it possible to go through the program remotely? Yes, we have a completely remote service or with one arrival at delivery. Documents are signed in electronic form, the examination is carried out in our international branches, the frozen genetic material is transported to the Clinic, the surrogate mother comes to your country for childbirth.
 Are confidentiality conditions respected during the program? The service is completely anonymous, according to the legislation of Ukraine.
Does the surrogate mother have rights to the child? No, according to Ukrainian law, a child is immediately registered with biological parents whom a baby's birth certificate is given.
«All-inclusive without worries» package programs with warranty from Feskov Human Reproduction Group have been compiled for a variety of requests. Their point is that once you pay a package of services, you don't pay anything else and relaxed do more important things. And our experts take all organizational, medical, legal concerns upon themselves, allowing you to expect a miracle - when the dear baby opens its eyes!
[1]
Tags:
surrogacy price
cost of surrogate
surrogacy step by step
subscribe to our newsletter