The life of Ukraine and the work of Feskov Human Reproduction Group during the war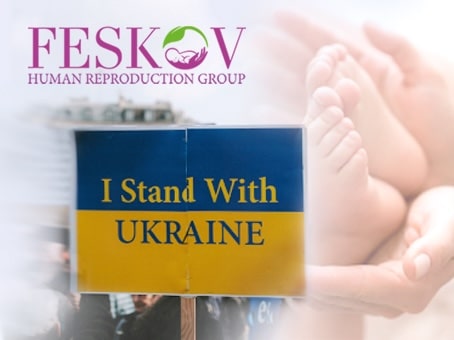 Jul 21, 2022
The nation that, despite the war, continues to live and creates a new life, wins!
The hostilities in Ukraine last for the fifth month, during this period Ukrainians continue to return a stable life, develop the country, and all this is thanks to the army and volunteers who heroically repel the attacks of the aggressor. The situation remains difficult, but manageable.
Central Ukraine and the western regions are currently in sufficient security. There is no fighting here, and the cities live their life like before with some addition: a cohesive fundraising for the army and economic recovery. The activity of the central and western regions is also due to the relocation of migrants here. These regions require the operation of medical institutions, kindergartens, schools, places for leisure and other enterprises. Even those business representatives who took a break for a while resume their work: restaurants, gyms, pharmacies, shops and beauty salons are open.
The capital of Ukraine has become the capital of aid, since it was here that a kind of "hub" was formed with various social services, volunteer organizations, and fundraising events. So, in turn, Kiev receives guests from other countries, foreign journalists, observers, volunteers and photographers. Hospitable Ukraine remains so despite the military situation, and this speaks of the invincibility and strength of our people. Musicians, actors, representatives of global companies visit Ukraine on humanitarian missions and for creative collaborations with their Ukrainian colleagues. During the day in Kiev, traffic jams familiar to everyone, rush hour in the metro, office turmoil, queues for the purchase of military postage stamps, humanitarian aid collections, and in the evening a walk along Landscape Alley or dinner with friends in a restaurant that has finally opened after a military break. In the evening, you can leave work and find out that right now Richard Branson is here in Kiev and calls on the whole world to invest in Ukraine and fight on.
Ukraine does not come to life, it has already come to life and breathes at a new pace. Sometimes, it slows down from the news, but in general it is confident, constant and inspires that the final victory is about to return everything to its place.
In the meantime, embassies and consulates of other countries have already returned to their places, which receive visitors both in Kiev, Lvov, and in other cities, where it is now quite calm.
At the moment, most of our team is located in Kiev, where business activity has almost completely recovered. Surrogate mothers, our bases, equipment and specialists are safe, and we are able to continue to help clients fulfill their dreams of having a baby.
Now you can consult with our managers, choose the most suitable program for you and take advantage of the opportunities of a remote package, formed in such a way that the client can start the program at any time, even without coming to Ukraine.
We worked on the remote package at the beginning of the Covid-19 pandemic, and it has become very popular - with its help, dozens of couples have become happy parents of healthy babies. So even now we are successfully working, thanks to well-established mechanisms and algorithms at all stages.
If you plan to join one of our surrogacy programs not remotely, but with a personal presence in Ukraine, then you can safely and comfortably get to Kiev today by rail - direct trains to the capital go from:
- Poland:
connections with cities such as Warsaw, Przemysl and Chelm.
- Austria:
communication with Vienna.
- Hungary:
communication with Budapest.
- Czech Republic:
From June 11, 2022, a train from Prague was launched with a change in Polish Przemysl.
In addition, the borders of Ukraine are open to cars and buses: you can come by your own or regular transport.
Ukraine has been and remains a leader in the field of reproductive medicine and surrogacy. Even during this difficult time, we help couples from all over the world to fulfill their dreams of having a baby.
Do not postpone your plans for later - we are ready to make them a reality now, because even in war we create a new life!
Tags:
war
Ukraine
war
Recommended
Popular
Related
subscribe
Get email updates
Join my mailing list to receive the latest news and updates
subscribe to our newsletter