Meetings with Feskov HRG in Munich and Cologne - Exhibitions 2021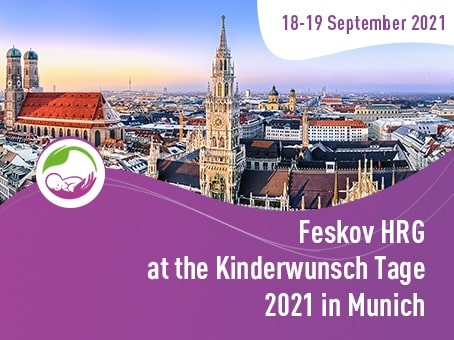 Dec 15, 2020
Personal communication, the opportunity to ask all questions and choose a surrogacy program suitable for you, consultation of the head of Feskov HRG - Vladislav Feskov. We invite you to visit the Kinderwunsch Tage exhibition.
In 2020, we have already met with couples from France and Germany and held individual consultations in Paris and Cologne. This allowed many families, despite the global pandemic, to start their way to parenting - three families are already waiting for the start of their program.
We invite you to exhibitions dedicated to modern reproductive technologies:
- 5-6 June 2021 in Munich
- in October 2021 in Cologne (the exact date will be later).
The events are worth visiting if you:
want to become parents,
cannot get pregnant for a long time,
have repeatedly had unsuccessful treatment,
had IVF, but the result is negative,
you have a problem of miscarriage,
you are interested in surrogacy, but you do not know how real and legal it is
Kinderwunsch Tage is the best place to get reliable information on these issues.
Fill out the form and our manager will contact you to tell you more about the benefits of a personal meeting:
At the meeting you will be able to:
Get individual consultation: from planning a visit to the clinic to legal formalities and legality of the program.
Get acquainted with Feskov HRG managers who work with couples from Germany, Switzerland, Belgium, France and other European countries.
Listen to the report of the head Vladislav Feskov and ask exciting questions about surrogacy.
How to get to the Kinderwunsch in Munich and Cologne?
All you need is to book tickets on the official website of the event - https://www.kinderwunsch-tage.de
Note! The entrance is absolutely free for everyone.
The organizer's website has detailed information about the venue of the exhibitions.
How to find Feskov Human Reproduction Group on Kinderwunsch Tage?
Tags:
Germany
Recommended
Popular
Related
subscribe
Get email updates
Join my mailing list to receive the latest news and updates
All Tags
surrogate motherhood surrogate mother surrogacy HIV IVF AID Ukraine egg donor egg donation news Ukrainian donors law Russia healthy child children health donor of oocytes Europe surrogacy price surrogate services ICI Insemination Artificial Insemination ICSI reproductive doctor Insemination USA artificial fertilization In-Vitro Fertilization Donor Eggs Intracytoplasmic Sperm Injection surrogacy service Biotex Biotexcom fake surrogacy surrogacy scam Italy single man PGD healthy baby infertility diagnosis infertility Czech Republic Georgia surrogate child surrogacy cost celebrity twins childbirth event social freezing contraception private surrogacy Berlin Kinderwunsch Tage african egg donor Canada UK Australia egg donor cost cost of surrogate surrogacy step by step VIP surrogacy France conference Paris clinic agency London israel COVID Belgium Netherlands Portugal Austria Greece Spain Ireland Israel Finland Norway Scotland fertility surrogacy agency mitochondrial transfer Germany Representative Brussels Surrogacy programs for single single woman child's gender gender selection sperm donation embryo adoption surrogate meeting reproductive services freezing of oocytes IUI insurance
subscribe to our newsletter