Surrogacy in Ukraine: practical issues and fictitious marriages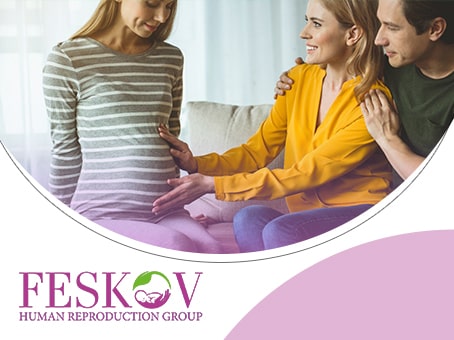 Feb 10, 2023
Despite the fact that surrogacy in the case of cooperation with reliable clinics is a reliable, safe and long-established practice, there are a lot of questions from intended parents around this service. 
In this article, we have put together the most comprehensive overview of how surrogacy works in Ukraine: from concluding an agreement with a clinic to legal support for the legalization of a child in your country.   
Surrogate mother in Ukraine: legal basis for her activities
Provision of services by a Ukrainian woman regulated by the Civil and Family Codes of Ukraine, as well as the Order of the Cabinet of Ministers No. 787 "On approval of the Procedure for the use of assisted reproductive technologies in Ukraine" dated 09.09.2013.
Important: Surrogacy is available to citizens of the country and foreign citizens: heterosexual married couples in an official marriage with a confirmed diagnosis of infertility.
Same-sex couples and single people cannot take part in reproductive programs with the participation of a surrogate mother on the territory of Ukraine.
Requirements for a woman applying for the role of a surrogate mother:
Age from 18 to 35 years old;
At least one healthy child born naturally;
Physical and psychological suitability, confirmed by the results of examinations;
Written consent of the spouse (if the woman is married);
Voluntary consent, confirmed by a statement.
The following conditions must also be met:
Medical indications for future parents (diagnosis "infertility").
Genetic connection with the futurechild of at least one parent (relevant in the case of using donor eggs or sperm).
The absence of a genetic connection between the surrogate mother and the child (a surrogate mother cannot be an egg donor at the same time).
There are several options for finding women who agree to bear a child for intended parents:
Invitation for this role of relatives or close friends of future parents;
Independent search for offers (for example, on specialized Internet forums);
Turning to a specialized agency for the selection of surrogates;
Selection from the database of your reproductive clinic.
Each option has advantages and disadvantages.
A relative or close girlfriend invited by a couple can be more trustworthy than a stranger. However, according to the results of the survey, she may be unsuitable for this role.
When you search on your own, you choose the candidate you like, but there is a risk of becoming a victim of fraud.
Agencies do not have a large selection of candidates and are not responsible for the behavior of the surrogate mother during the program. Large agencies have access to vast databases of surrogate mothers, but their area of responsibility ends with the provision of a candidate. If there are problems with it, customers will have to solve them on their own.
The clinics have extensive bases of candidates whose medical and psychological suitability can be guaranteed.
Whatever option you choose, the final decision to approve a woman for the role of a surrogate mother is made by the doctors of the reproductive clinic, based on the results of the medical and psychological opinions of their own specialists.
Risks associated with surrogacy in Ukraine
Important: there have been precedents of fictitious marriages between the alleged father and the "professional bride" in order to obtain the services of a surrogate mother. In no case should you take such a risk, threatening a criminal case and the removal of a child. You can become a victim of blackmail or fraud: for example, your "wife" can give birth to your child, and you will be required to support both her and the child. A fake marriage is a very bad idea.
How the surrogate mother program should work
The first and most important thing prospective parents should do before entering a reproductive program is to consult with a practicing attorney in your country's reproductive law. The fact is that not all countries are ready to legalize children born by a surrogate mother in another country. For example, in Spain, France, Germany, they may refuse to grant citizenship to such a child, which will make it almost impossible for him to return to his parents' country.
Ideally, your lawyer should accompany you through the process of drafting a contract with the clinic. It should always be remembered that even the most reliable contract drawn up by a clinic lawyer will protect her interests to the greatest extent.
Feskov Human Repriduction Group has developed a newborn legalization procedure and has many successful examples, including in the countries listed above.
Nationality of the newborn
According to the norms of Ukrainian legislation, a child born by a surrogate mother must be recognized as a citizen of the parent's native country. As we have already indicated, some countries may deny citizenship to such a child. In this case, the newborn may become stateless, and parents will have to spend many months arguing with the consulate of their country in an attempt to obtain paperwork to travel to their home country. A positive decision is not guaranteed. There are several ways to resolve this issue. For example, a simplified adoption procedure in the jurisdiction of your country.
How Surrogacy Works in Ukraine
At the stage of concluding a contract, it is important to clearly define the rights and obligations of all parties to the process. In the contract, it is recommended to reflect, in addition to general issues, the procedure for actions in the event of unforeseen circumstances:
Deterioration of the health status of the surrogate mother during the gestation period.
Miscarriage, stillbirth, abortion for medical reasons.
Multiplepregnancy.
The birth of a child with pathologies that cannot be diagnosed using PGD or in the prenatal period.
Divorce or death of one of the parents.
It is also necessary to indicate several points in the interests of the surrogate mother, such as compensation for reasonable expenses for medicines, examinations, accommodation, insurance, special clothes for pregnant women, babysitting and translator services, and others.
Listing all possible situations, defining the rights and obligations of each party, as well as specifying penalties will help protect each party from possible abuse.
If you are a single man, there are legal and safe ways for you to become a father through an international program. A Ukrainian surrogate mother will give birth to you in a country that allows surrogacy for single men. At the same time, your parental rights will be protected by Ukrainian law.
After the conclusion of the contract, according to the points prescribed in it, the medical program begins. At this stage, future parents undergo medical examinations, including fertility assessment. In some cases, the use of the latest treatment methods can avoid the need to include surrogate mothers in the program. If you can't do without it, doctors begin to prepare her for pregnancy.
The expectant mother at this moment undergoes hormonal stimulation to obtain eggs (if donor oocytes are required, the donor undergoes stimulation). The future father undergoes examinations and, in case of fertility disorders, receives andrological treatment. If obtaining healthy sperm is not possible, doctors recommend resorting to the use of donor sperm.
At the next stage of the process, embryos are created from the obtained genetic materials. With the help of pre-implantation genetic diagnosis, healthy ones without chromosomal pathologies are selected among them. After that, IVF is carried out: an embryo is transferred into the uterine cavity of surrogate mothers (in some cases - 2).
A week later, an ultrasound is performed, and after 10-14 days, a blood test. If pregnancy develops, its observation starts for the next 9 months. If the embryo does not implant, the reasons are analyzed and a program with a repeated cycle is developed.
In the case of repeated IVF cycles, there is a clarification: if the clinic does not offer guaranteed programs with a mandatory result - the birth of a healthy child, then repeated cycles mean a second payment. This means that the cost of parenthood can increase several times.
Feskov Human Reproduction Group offers guaranteed programs with the birth of a healthy child not only in Ukraine, but also in many other countries, depending on the needs and desires of customers. Future parents pay for the selected package of services once and expect the birth of their child. In cases of unsuccessful IVF or spontaneous abortions, we carry out repeated cycles at our own expense until the goal is reached. The package price includes the surrogate mother's fee, accommodation, 3 meals a day and legal support.
To ensure the health of your child, we carry out not only pre-implantation genetic diagnosis, but also provide an opportunity to protect him from more than 500 hereditary diseases. This is possible thanks to the service of in-depth analysis of genetics "Human Genomics". Oncology, cystic fibrosis and other diseases in your offspring can be completely ruled out.
We are ready to cooperate with your lawyer to secure your interests, we are open to participation in the surrogate mother program from among your relatives. We also have a huge database of proven surrogate mothers who have given the happiness of parenthood to many couples around the world.
After the birth of a child, our reproductive law lawyer will ensure that all the necessary documents are received for a smooth return home with a baby. To confirm our words, we publish video reviews of our happy clients (including those from France, Spain and Germany) who have become parents with the help of surrogate mothers from Ukraine. No problems with obtaining citizenship thanks to our international programs.
We are always happy to tell you more about our guarantees - our site managers are waiting for your requests.
Tags:
surrogacy scam
single man
single woman
Recommended
Popular
Related
subscribe
Get email updates
Join my mailing list to receive the latest news and updates
subscribe to our newsletter