Why is the transportation of Сryopreserved Eggs procedure at Feskov`s surrogacy agency effective in your case too?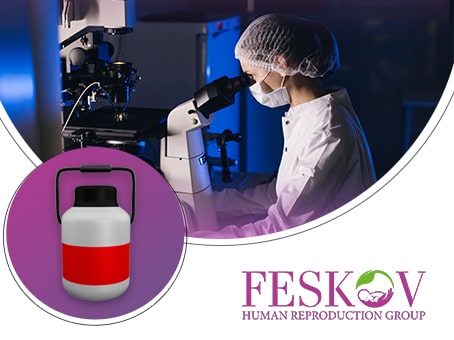 Jan 26, 2023
Carrying out reproductive programs using cryopreserved genetic materials has significantly expanded the horizons of family planning for infertile couples. There was an opportunity to participate in international programs of selected clinics around the world, to become parents despite the ban on surrogate motherhood in their country. 
It is enough to coordinate delivery of cryopreserved eggs with the selected reproductive centeror embryos - and your baby will be born where you want.
However, there are still many questions from future parents around the use of cryo-frozen genetic materials. How safe and streamlined is the process of their transportation? Does the chance of pregnancy decrease compared to using fresh embryos? Which agency is it better to trust transportation of frozen embryos? We will answer sequentially all the questions in this article.
Storage and long-distance transportation of eggs: safety standards
A properly organized process of storage and delivery of cryo-frozen genetic material is completely safe. Even when you donate your eggs to the cryobank, they go through the process of vitrification - ultrafast freezing, which preserves the properties of oocytes and allows them to be stored in liquid nitrogen at a temperature of -196 degrees Celsius for many decades.
In some cases, oocytes are subjected to slow freezing. However, this method is fraught with damage during defrosting due to ice crystals inside. During vitrification, only the upper shell freezes, allowing 9 out of 10 frozen eggs to remain viable when defrosted.
Safe transportation over long distances is possible provided that a constant temperature in the shipping container is maintained no higher than -150 degrees Celsius. This is possible thanks to a special material inside the container that releases liquid nitrogen vapor. If the above conditions are met, frozen genetic material can safely survive 5-7 days when shipped internationally.
The service of transportation of eggs and other genetic materials is quite well developed and is carried out by couriers of some cryobanks and third-party specialized companies, such as BioCouriers or Cryoport, as well as UPS and FedEx in agreement with reproductive clinics. FeskovHuman Reproduction Group carries out this by its own certified couriers to guarantee safe delivery.
As for the prevalence of the service, according to rough estimates of experts, up to 3,000 copies of eggs or embryos are sent annually between cryobanks and clinics around the world. 
Transportation process: paperwork, selection of a consignor
After the future parents have made a decision on the need to send their genetic materials to a clinic in another country, it is necessary to request from the clinic:
Written consent to accept your cargo;
A complete list of documents required from patients for accompanying the cargo and acceptance into the reproductive program.
A typical list of documents required from patients includes:
Application to the cryobank for giving genetic material.
Power of attorney addressed to the courier for the delivery of genetic materials to the reproductive center.
Scans of test results for HIV, RW, hepatitis B and C.
Copies of a medical report with a diagnosis of infertility.
Scans of marriage certificate, couple's passports.
Copies of medical documents with information about the treatment of reproductive problems (if any).
After the documents have been collected, you will have to choose a transportation company with experience in delivering such goods on your own or in agreement with the clinic and order a delivery service. 
Reasons to use the services of Feskov`s surrogacy agency
If you decide to work with FeskovHuman Reproduction Group, you don't have to worry about choosing a company-consignor. We will carry out the transportation ourselves, you will only need to draw up the documents, a list of which we will provide you. We do not accept into the program only genetic materials delivered by us for the following reasons:
In order to prevent embryos / oocytes from countries and clinics with a dubious reputation from entering the reproductive program, without proper documentation.
Eliminate an error that could lead to criminal liability for all program participants due to the absence of relationship between the embryo and future parents (due to an error of the laboratory, cryobank or transportation company).
We want to make sure that the transportations conditions that affect the viability of your embryos are met.
Our agency uses its own high-quality transportation equipment with temperature sensors, computer control during the entire delivery period. Subject to our conditions, we can guarantee IVF success rate of 50-70%, which is more than 2 times higher than the success rate when using fresh embryos.
In addition, we take into account the interests of our surrogate mothers when it comes to programs that include surrogacy. All of them are striving to safely bear a child with checked genetics. We can guarantee such conditions 100% only when creating embryos in our laboratory, testing them using pre-implantation genetic diagnosis. In other cases, the possibility of creating an embryo with damaged genetics exists even in respectable clinics with many years of positive reputation.
We carefully study the medical history of each couple and will not recommend surrogacy where there is a chance to give a woman the opportunity to become a mother on her own. We have the opportunity to restore reproductive function by building up the endometrium or overcoming ovarian failure. We can also help men with impaired spermatogenesis avoid using donor sperm.
To further increase the chances of success after the first IVF, we perform embryo transfer within 7 days after arrival at the clinic. Thawed embryos are cultured, biopsied and transferred. However, there is always a risk of having a chromosomal pathology: if it is detected before the transfer, then the embryo is not allowed to the program. If the pathology is detected at the stage of cell division of an already implanted embryo, then the pregnancy is terminated, which carries risks to the health of the surrogate mother. This means that it leads to an increase in costs due to the complication of finding a suitable candidate.
Important: Avoid low cost programs using your own embryos. The risks described above cannot be covered by this amount. Most likely this will be offset by a decrease in your comfort: a long waiting list or the possibility of a caesarean section to simplify the program.
The main reason to entrust the birth of your child to us is guarantees. You pay the cost of the program and get the result. We will carry out as many IVFs as necessary without additional payments, so that you are guaranteed to have a healthy baby. Managers on our website will tell you more about guarantees.  
Tags:
surrogacy
freezing of oocytes
reproductive services
Recommended
Popular
subscribe
Get email updates
Join my mailing list to receive the latest news and updates
Recommended:
subscribe to our newsletter