Meeting you in Zürich and Köln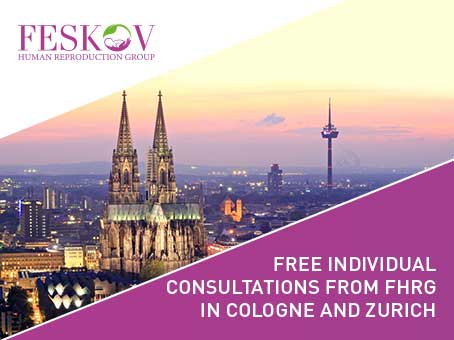 Jul 23, 2020
The Feskov Human Reproduction Group team is already preparing to travel to your country to take part in international events.
On September 26-27, 2020 in Köln and October 10-11 in Zürich, unique events will be held that bring together leading specialists in the field of assisted reproductive technologies from all over Europe for one purpose - to tell everyone who is desperate to become parents about modern medical technologies. About medicine that will make you parents.
If you:
want to become parents,
cannot get pregnant for a long time,
have repeatedly had unsuccessful treatment,
did IVF, but the result is negative,
you have a problem of miscarriage,
you are interested in surrogacy, but you don't know how real and legal it is,
the Kinderwunsch Tage is the best place to get reliable information on these issues.
The advantage of visiting is that only verified certified clinics take part.
Feskov Human Reproduction Group has been working in the field of reproductive technologies for 25 years and knows exactly all the possibilities for couples from Europe to become parents. We are ready to share this experience with you through live communication with our team on topics  that concern you.
Fill out the form and our manager will contact you to tell you more about the benefits of a personal meeting:
At the meeting you can:
Get personal advice from Vladislav Feskov, head of the Feskov Human Reproduction Group. He will give answers to exciting questions. He will tell you about the level of Ukrainian reproductive medicine, the possibilities, guarantees and legality of our infertility treatment programs.
 Get a personal consultation with managers who work with couples from Germany, Switzerland, Belgium, France and other European countries. They will tell you about the experiences of your fellow citizens who became parents in the Feskov Human Reproduction Group.
 For two days a team will work at our stand with whom you can communicate in German, English, French, Russian, Ukrainian.
Listen to reports from the head of the Feskov Human Reproduction Group Vladislav Feskov in one of the conference halls and ask questions.
How to get to the Kinderwunsch in Köln and Zürich?
All you need is to book tickets on the official website of the event
Кöln - https://www.kinderwunsch-tage.de/freitickets-koeln
Zürich - https://www.eventbrite.ch/e/kinderwunsch-info-weekend-tickets-78747155863
Note! Admission is absolutely free for everyone!
How to find Feskov Human Reproduction Group on Kinderwunsch Tage?
Download map of Köln.
Download map of Zürich.
Contact information about exhibitions
Кöln
Official website — https://www.kinderwunsch-tage.de/
September 26-27, 2020.
XPOST
Gladbacher Wall 5
50670 Köln
Opening: Saturday, September 26, 2020 - 10.00 am
Zürich
Official website  - https://kinderwunschinfo.ch/
October 10-11, 2020 г.
Hotel Park Hyatt
Pfingstweidstrasse 110, 8005 Zürich Zürich, Schweiz
Opening: Saturday, October 10, 2020 - 10.00 am
Tags:
Recommended
Popular
subscribe
Get email updates
Join my mailing list to receive the latest news and updates
subscribe to our newsletter