VIP Guarantee Birth in Argentina

Benefits
1

Brilliant legal solution adopted for international legacy

2

All types of familial status

3

Remote program processing 

4

Completed comprehensive legal support

5

Argentine citizenship obtaining

6

Stress-free comfortably arranged logistics
Analytical step
Examination of the male partner before IVF
Andrological examination: FISH, DNA fragmentation, HBA test
Semen cryopreservation + storage until the birth of the baby
Selection and preparation of egg donor(s)
Accommodation in the VIP room of the clinic / VIP hotel, food
Selection of a healthy embryo + embryo transfer(s)
Unlimited number of IVF programs with egg donation
IVF+ICSI programs + embryos cryopreservation
PICSI,IMSI (special methods for spermatozoa selection)
Preimplantation genetic diagnostics full genome screening by NGS
Selection of surrogate mother(s), preparation for embryo transfer
Unlimited quantity of embryo transfers only healthy embryos
Medical monitoring of pregnancy + delivery in Argentina
Pregnancy management of surrogate mother (standard medical care).
Pregnancy care in Ukraine until the 6th – 8th month.
Insurance for surrogate mother (on 12th weeks of pregnancy)
Pregnancy care after 6-8th month and delivery in Argentina
Full compensation for surrogate mother services, including payments during the pregnancy
Providing new IVF+PGD (NGS) program with surrogate mother services and egg donation in case of pregnancy termination in all terms
Documents registration
Legal support (registration a birth certificate for newborn child)
Guest services, translation, transportation
Request more information on the services provided by Feskov Human Reproduction Group.
We will put you in direct contact with the manager of the service you selected. You will be contacted as soon as possible.
CONDITIONS FOR PROVIDING IVF PROGRAM WITH EGG DONOR AND SURROGATE MOTHER PARTICIPATION:
01

Final decision for acceptance of man to program is made by IVF doctor of CHR «Clinic of prof. Feskov»; male Customers with high-quality of sperm only.

02

Medical examinations must be performed in CHR «Clinic of prof. Feskov» only

03

Payments according to individual schedule. No additional payments
04

According to conditions of package, CHR «Clinic of prof. Feskov» provides service of guarantee live birth of healthy child; in cases of miscarriage independently on term of pregnancy / child death before delivery / child death during delivery, whole program will be done until Customer will have baby.
Management of multiple pregnancy (twins, obtained after transfer of 1 embryo) is covered by the contract conditions.
SCHEDULE OF PAYMENTS:
01

No later than 7 banking days from the moment of signing the present Contract

15 000€

02

Within 7 banking days before the start of IVF program

35 000€

03

On 12th week of pregnancy (embryo term)

25 000€

04

On 32th week of pregnancy (embryo term)

15 000€
Surrogacy in Argentina - the ideal solution?
In search of the best place to give birth to their child, Europeans diagnosed with infertility are trying to strike a balance between the cost of reproductive services, medical guarantees and legal security. The main requirements of parents are a high level of medicine and a reliable well-established procedure for legalizing a child.
Surrogacy in Argentina is one of the most balanced options, along with surrogacy in Mexico or Colombia. Along with Canada and the US, where surrogacy is legal for single people, Argentina has recently also allowed assisted reproductive services for intended parents. This unique, relatively new surrogacy destination has appeared recently, but is already gaining popularity. From the point of view of legality, this is an analogue of childbirth in the United States, only at a much more cheaper price. Due to its novelty and attractive conditions, this destination is treated with great interest, it causes much less alertness than childbirth in Ukraine. Other obvious advantages of this direction are:
Surrogacy is allowed for everyone;
Simplified legalization of newborns;
Obtaining Argentinian citizenship.
All of the above gives the impression that childbirth in Argentina is a simple and profitable way to parental happiness. Let us take a closer look at whether this is actually the case.
Surrogacy in Argentina: process details
In accordance with Article 19 of the National Constitution of Argentina, surrogacy is allowed in this country, since there is no direct legislative prohibition of this practice. All that is needed is a voluntary, written agreement between the intended parents and the woman who has agreed to carry a child for them.
The legislation of the country does not allow any discrimination: local residents, foreigners, married and partnered couples, as well as single people and same-sex couples have the right to become parents with the help of surrogacy in Argentina.
You can invite a local citizen to be a surrogate mother in Argentina or involve a relative or family friend for this role. If your surrogate mother is a citizen of Argentina or any other country, the following requirements apply to her:
The absence of a genetic connection with the child (that is, a surrogate mother cannot be an egg donor at the same time).
Full physical and psychological health, confirmed by doctors.
Registration in the National Register of Surrogate Mothers.
Having at least one child of her own.
Participation in surrogacy programs no more than two times.
Age up to 40 years.
A common practice in Buenos Aires is to register a child without a prior court order, in accordance with Regulation No. 122/DGRC/20. This gives some guarantees of confirmation of parental rights before the final court decision, because initially the surrogate mother will be entered in the birth certificate. The entire legalization process, including the granting of Argentine citizenship to the child and the issuance of travel documents, takes several months.
However, in reality, everything is not so simple. If Argentinian clinics are engaged in the selection of a surrogate mother, then a citizen of another country may be invited to simplify the procedure. The rights of a woman who has given birth to a child are in the jurisdiction of her country, which may recognize her as the legal parent.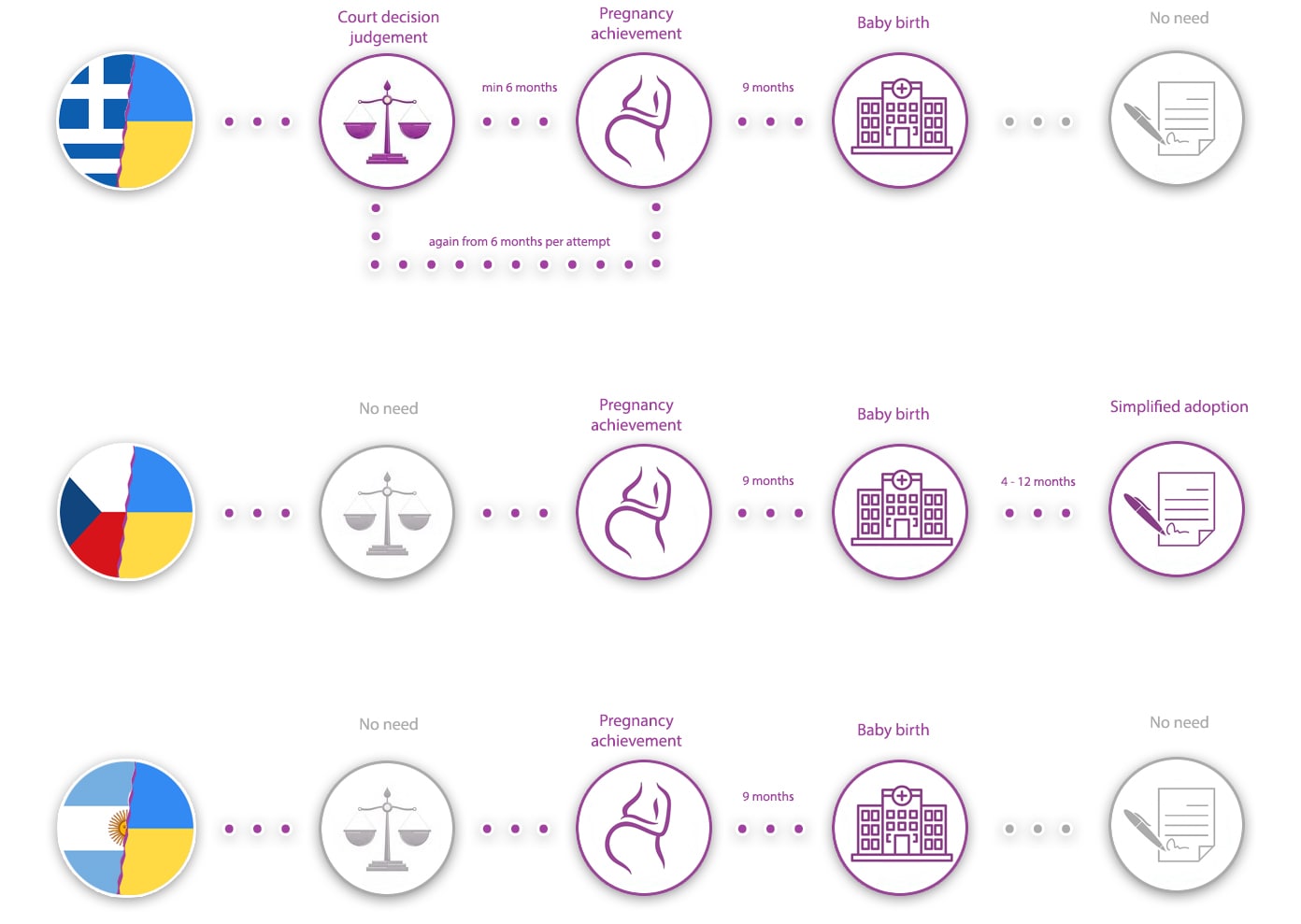 A controversial situation is also developing with Argentinian egg donors: their phenotype can be very different from the phenotype of the intended mother. And another weak point of surrogacy Argentina is lack of guarantees for the birth of a child.
That is, having paid about $ 90,000 for a standard package of services, risking getting an egg donor who is not like you and entrusting the bearing of your child to a woman from a third country - you can be left with nothing due to unsuccessful IVF or an interrupted pregnancy. Is there a way to avoid this? Of course!
Childbirth in Argentina: international guaranteed programs
People with a diagnosis of infertility who dream of having a child in Argentina have the opportunity to become parents of a healthy child and control all stages of the reproductive program. To do this, it is enough to take part in the international guaranteed program with  childbirth in Argentina where the medical part (embryo creation, IVF, pregnancy monitoring) will be carried out in another country.
For example, the Feskov Human Reproduction Group package programs make it possible to choose an attractive oocyte donor phenotypically similar to the future mother, as well as an experienced surrogate mother with a high sanitary culture from the clinic's large own base.
At the same time, for the medical part of the program, expectant parents do not even have to come to Ukraine: examination and treatment, as well as the selection of genetic material can be carried out in their home country, and the clinic team will organize its transportation to Ukraine. IVF and pregnancy monitoring will also be carried out there, and the birth will take place in Argentina, which automatically allows the child to receive Argentinian citizenship.
Working with Feskov Human Reproduction Group means two more great bonuses:
Guaranteed birth of a healthy baby at a fixed price: in case of IVF failures or termination of pregnancy, the clinic will repeat the program at its own expense until your baby is born.
Legalization of a newborn under a simplified procedure: the birth certificate will initially list the biological parents, the child will receive an Argentinian identity card (ID card) and an express passport to travel abroad within two months after birth.
The documents received by the child are recognized all over the world.
Thus, an international program at a comparable price makes it possible to become parents of a small citizen of Argentina faster and more predictably. It is an affordable and win-win option for single people dreaming of a child: legal, fast, stress-free and at the right price.
Would you like to get a complete step-by-step birth plan for your baby? Managers on our website will be happy to share it with you!
This information is presented for informational purposes and shows the possibilities of using this or that reproductive technology in the territory of Ukraine or another country where our clinic can be represented.
By accessing this website, you agree to the user agreement on the
Agreement
page.
FAQ
Is surrogacy possible for single men or women?

Yes, it is possible. It is available in Argentina, Greece, Ukraine, Czech Republic, Belgium, Portugal and Holland. Also, in the US and Canada, but be prepared for hefty service charges.
subscribe to our newsletter