Balance Guarantee Birth in Portugal

Benefits
1

The birth of a healthy baby

2

Legal support

3

Simplified legalization for Portugal citizen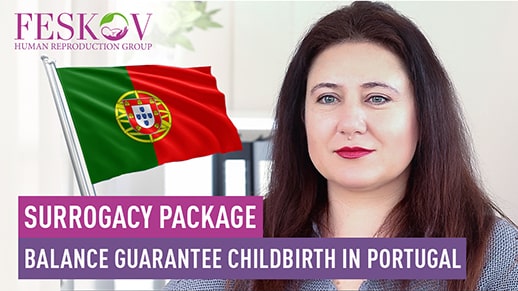 Watch the video to know more about technologies used for creating healthy embryos, eliminating gene and chromosomal pathologies and giving birth to a healthy baby. watch the full video
Analytical step
Examination of man before IVF
Sperm quality assessment
Cryopreservation of semen
Egg donor providing by clinic, informational support about provided candidate(s)
Staying in comfort-level, 3 times food supplement. Legal documents preparation
Selection of a healthy embryo + embryo transfer(s)
Unlimited number of IVF programs with egg donation
IVF+ICSI programs + embryos cryopreservation
PICSI,IMSI (special methods for spermatozoa selection)
Preimplantation genetic diagnostics full genome screening by NGS
Surrogate mother providing
Unlimited quantity of embryo transfers only healthy embryos
Medical monitoring of pregnancy + delivery in Portugal
Pregnancy management of surrogate mother (standard medical care). Pregnancy care in Ukraine until 8th month
Insurance for surrogate mother (on 12th weeks of pregnancy)
Pregnancy care after 8th month and delivery in Portugal
Full compensation for surrogate mother services, including payments    during the pregnancy (after baby birth)
Providing new IVF+PGD (NGS) program with surrogate mother services and egg donation in case of pregnancy termination in all terms
Documents registration
Legal support (registration a birth certificate for newborn child)
Guest services, translation, transportation
Request more information on the services provided by Feskov Human Reproduction Group.
We will put you in direct contact with the manager of the service you selected. You will be contacted as soon as possible.
CONDITIONS FOR PROVIDING IVF PROGRAM WITH EGG DONOR AND SURROGATE MOTHER SERVICES:
01

Final decision for acceptance of man to program is made by IVF doctor of CHR «Clinic of prof. Feskov»; male Customers with high-quality of sperm only.

02

Medical examinations must be performed in CHR «Clinic of prof. Feskov» only

03

Payments according to individual schedule. No additional payments

04

Conversion to higher-class program is paid additionally +50% to difference of price.
05

Balance Guarantee offered for married couples only

06

According to conditions of package, CHR «Clinic of prof. Feskov» provides service of guarantee live birth of healthy child; in cases of miscarriage independently on term of pregnancy / child death before delivery / child death during delivery, whole program will be done until Customer will have baby.
Management of multiple pregnancy (twins, obtained after transfer of 1 embryo) is covered by the contract conditions.
SCHEDULE OF PAYMENTS:
01

No later than 7 banking days from the moment of signing the present Contract

9 000€

02

Within 7 banking days before the start of IVF program

25 000€

03

During period between 12th and 13th weeks of gestation (embryonic period)

21 000€

04

On 32th week of pregnancy (embryo term)

5 000€
subscribe to our newsletter