Benefits
1

Exclusion of genetic diseases

2

No waiting list

3

Choice of future child sex

4

Cover of all risks up to childbirth

5

Passport of USA citizen

6

Support 24/7

7

Own eggs or choice of donor of any phenotype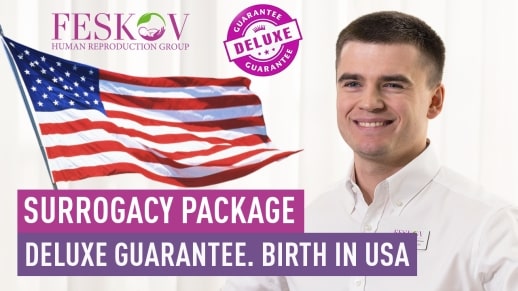 Watch the video to know more about technologies used for creating healthy embryos, eliminating gene and chromosomal pathologies and giving birth to a healthy baby. watch the full video
ALL INCLUDED
Analytical step
Medical assessment of couple / man before start IVF
Andrological  assessment / preparation, advanced sperm tests,      treatment for sperm quality (by indications of Doctor)
Cryopreservation of sperm, storage up to baby birth
Surrogate mother (s) selection and preparation. NO WAITING LIST (minimum 2 surrogate mothers recommended for selection)
Surrogate mother (s) travel documents preparation
Egg donor (s) selection and preparation (by necessity) (minimum 3 egg donors recommended for selection)
Staying in VIP room of clinic / hotel VIP level,  food supplement
Sperm transportation from USA to Ukraine (by request, incl. all logistical services, custom fees, support services); unlimited
Selection of a healthy embryo + embryo transfer
Unlimited number of ovarian stimulations of woman with r-FSH (IVF attempts with own eggs unlimited)
Unlimited number of ovarian stimulations of egg donor by r-FSH (in case of conversion to egg donation)
IVF+ICSI program + embryos cryopreservation
PICSI+IMSI (in-vitro  selection of best quality spermatozoa's)
Healthy embryo selection (PGD: full genome screening by high resolution NGS / Karyomapping); advanced set of DNA tests for all significant SGD!
Unlimited quantity of embryo transfers only healthy embryos. Sex selection of future baby
Medical care of pregnancy + baby birth in USA
Pregnancy support and medical in Ukraine, travel and living costs for surrogate mother
Pregnancy support and medical care and labor in USA
Financial compensation for surrogate mother, covered all payments from embryo transfer up to contract execution is complete
Providing new IVF treatment until live birth will be achieved in case of pregnancy termination at any gestational age, child death during delivery
Legal support in USA
Registration of documents for newborn child (birth certificate, passport)
Guest services, translation services, transportation services for surrogate mother and intended parents in USA during providing services
Accommodation equipped for staying with baby, pediatric, nurse, baby-sitter education service.
Request more information on the services provided by Feskov Human Reproduction Group.
We will put you in direct contact with the manager of the service you selected. You will be contacted as soon as possible.
CONDITIONS FOR PROVIDING IVF PROGRAM WITH EGG DONOR AND SURROGATE MOTHER SERVICES:
01

Conclusion for participation in program performs by IVF doctor of clinic.

02

Medical assessment provided in CHR «Clinic of prof. Feskov» only

03

Payments provided by Customers by prescribed scheme. No additional payments
04

According to conditions of the package, CHR «Clinic of prof. Feskov» provides service guaranteeing live birth of healthy child with exact sex selection, balanced chromosomes set, screened for all possible inherited conditions from genetic parents (cancer predisposition, autoimmune diseases, metabolic disorders, endocrinological pathologies, neurological, single gene disorders, etc.); in cases of miscarriage independently of term of pregnancy / child death before delivery / child death during delivery, all program will be done until couple has baby. Management of multiple pregnancy (twins) is covered by the contract conditions
SCHEDULE OF PAYMENTS:
01

Initial medical examination of Customers, surrogate mother (s) preparation, living costs (average cost). No later than 14 banking days from the moment of signing the present Contract

16 000€

02

Within 7 banking days before the start of 1-st IVF program

25 000€

03

Within 7 banking days before the start of 1-st embryo transfer

25 000€

04

Within 21 banking days after the 1-st embryo transfer

12 500€

05

During period between 12th and 13th weeks of pregnancy

12 500€

06

During period between 24th and 25th weeks of pregnancy

17 000€

07

No later than 3 banking days after the birth of the child

17 000€
Due to the high popularity of the service, we recommend that you check the availability of packages with our managers in advance
subscribe to our newsletter