Сhoose the service you need
and click on it to see the cost:
Know more about our guarantee programs
A detailed description of the best programs of the Feskov Human Reproduction Group is provided by our manager.
watch the full video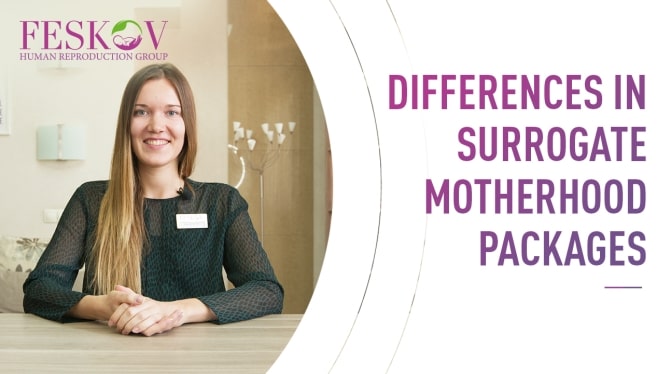 Competitive Comparison Chart
Bank transfer payments without extra amount
Business owner / handling the whole process / stable team
Official registration as a medical clinic
Healthy baby Guarantee / real PGD/hr-NGS providing
Appropriateness of Costs Charged to services provided
Feskov human reproduction group
Exclusive large database with most exceptional and diverse egg donors
Limited conditions to proceed with economy services
High level of medical care. Advanced support. Baby birth in EU, USA
Fixed amount. Packages with non-fixed amount are finished.
Sustained and Limited database
Forces every client to egg donation. Services are poor in quality.
Low cost, cash payments, good marketing
Economy services 30000 euro with always extra 6000 euro. Final amount grows up significantly.
Database shared with other agencies
Frequently changes partners and clinics. Refuses responsibility.
Good support and communication.
Extra twins.
Extra PGD
Extra for analysis
L*V*t*N*va / Successful parents/ NewLife
Sustained and Limited database
Intermediary agency. Quality of legal services is poor, clients can be deceived.
IVF attempts cost 3000-7000 euro. 3x IVF = 21000 EURO + hotel, food, surr mom payment = more than 50000
C*rc*e S*rr*g*cy and others USA
Hispanic Egg Donors mostly, long waiting list for Caucasian egg donors
Intermediary agency. No guaranteed. High cost. Many extra payments for unnecessary services.
Agencies fee starts from 60 000 USD. IVF 1 attempt 20 000 USD. Surr mom minimum 30000 USD
Rare renewal of database. Long waiting list.
No guarantee services. Many extra payments what is not included on the packages.
European approach. Professional staff.
IVF attempts cost 3000-7000 euro. 3x IVF = 21000 EURO + hotel, food, surr mom payment = more than 50000
Georgian Clinics / agencies
Armenian Egg Donors mostly, Mediterranean Phenotype
No guarantee services, Many extra payments. Clients' confidential information is not secure.
30% less than Czech Clinics
Scroll right to see all companies
see the whole table
Feskov Surrogacy Center: The Prices
What Is Surrogacy Cost in Ukraine?
Parenthood is one of the joys that most people look for. It is especially true when a couple starts a family and reaches sufficient financial level with stable income. Being able to provide their future children with everything that makes a happy and successful life, potential parents consider having a child. However, despite the fact that for some people, motherhood and fatherhood become the most desired things they wish, many couples are unable to conceive a child. Poor ecology, disbalanced lifestyle, high levels of stress, inherited health issues, and dozens of other factors contribute to the condition when pregnancy is impossible. It should be noted that both partners may be unable to have children; what's more, men are as vulnerable in this case as women are.
However, breaking the family or diving into despair is not an option; there is a way out. Surrogate maternity may be the best decision out of all possible variants. Wisely managed, healthy, safe, and technologically advantaged, this option should be considered by couples that faced such a problem.
But what is the average surrogacy price? How much it cost? The aim of this section is to answer all your questions clearly. Read on to discover detailed information on pricing policies in our facility in Ukraine. Comparison of average surrogacy cost in other facilities is also provided.
The surrogate price in Ukraine may fluctuate in a wide range depending on a reproductive medicine center and a package of services needed. However, the success of the procedure is not a matter of solid money only. For the program to be successful, you need to carefully choose both a medical institution and a woman who agrees to give birth to a child for you. And the surrogate mother cost may vary in a considerable range.
The Main Spending Pattern of Surrogate Cost
One of the main expenditure items of the surrogacy cost is a fee to the surrogate mother and her support throughout the entire pregnancy, as well as the creation of comfortable conditions for the delivery. The surrogacy cost depends on the agreement between the two sides and the pricing policy of the medical facility serving the pregnancy and child delivery.
It is difficult to say what the cost of surrogacy in Ukraine is, but often the amount varies from $40,000 USD up to $100,000 USD. The surrogacy cost depends on many factors, including the agreement between the parties and the health condition of a woman who agrees to bear a child, how many IVFs needed. In addition, every surrogate motherhood clinic in Ukraine has its own policy on the cost of surrogacy.
The surrogacy cost includes medical examination, pharmacotherapy, laboratory tests, and a surrogate mother choice. All this can significantly increase the final surrogacy cost, but only notarized documentation as well as medical supervision of surrogacy are the key to the fulfillment of both all prescriptions and the transfer of the baby to his genetic parents.
When counting the surrogacy cost, you should not forget about the medical component of surrogate motherhood. After signing of the contract, an IVF program with a surrogate mother is conducted. By signing a contract with Feskov Surrogacy Center, you can pick any package of services to support the surrogate motherhood program, including those that include preparation for IVF and the procedure in our own clinic. High-quality assistance and modern scientific and technical equipment are guaranteed. All the expenses are covered in our surrogacy cost.
Who We Are
Feskov Surrogacy Center is one of the leading Ukrainian facilities committed to helping potential parents to embrace that most important bundle of life and joy – a baby. Our clinic was founded by and operates under the wise leadership of Professor Alexandr Mikhailovich Feskov. The internationally acclaimed and renowned professor has been working in the field of infertility treatment, IVF, and surrogacy for more than 33 years. Besides, he is a member of the ESHRE and Ukrainian Reproductive Medicine Association's board.
The clinic has international connections within and outside Europe and UK. We operate in countries such as the USA, the UK, Spain, Italy, France, China, Brazil, Germany, Sri Lanka, only to mention a few.
Considering our broad experience in reproductive medicine and moderate surrogacy cost, Feskov Surrogacy Center is one of the best places where you can use all the latest achievements of reproductive medicine. We can boast of a reasonable surrogate price policy and a large donor base you can turn to. Everything is included in the package of services: medical procedures, legal support, as well as solution of any organizational issues. What is more, you can choose any package you need based on the surrogacy cost.
Feskov Surrogacy Costs and Fees
Here is a comprehensive list of our surrogate cost and fees.
Surrogate mother cost
Examination of a couple before individual IVF program and search of a surrogate mother
Comfort guarantee of surrogacy average cost €37,500
unlimited IVF and Embryos transfers
IVF-PGD (hr-NGS) guarantee healthy  baby birth
all inclusive medical care
baby birth et pregnancy care
Full Legal support up to leaving Ukraine  
accommodation included
pediatric services
baby-sitter service
* scope of services depends on package
Surrogacy cost of economy-class guarantee programs
For singles: surrogate motherhood + egg donor average cost €60,000
Egg donation program with individual services price
VIP guarantee packages surrogacy average cost €49,000
The Prices for Extra Services
Here is a price list of extra expenses you will need to add to the surrogacy cost.
Standard legal fees - included to all packages
Personal contact with egg donors - available in deluxe packages
Surrogate mother's travelling to any clinic across the world - available in packages with babybirth in USA, Canada, UK or Chech Republic.
Transportation of cryopreserved eggs
Provision of a surrogate mother candidate - available in all packages
The preservation and storage of cord blood/placental tissue - available in advanced VIPs
Table of Surrogacy Cost in Various Countries
This table of surrogacy cost gives you a comparison of what you will have to pay for surrogacy services with and without an IVF in different countries. The average surrogate cost is indicated.
|   | Surrogacy Cost without IVF | Surrogacy Cost with IVF |
| --- | --- | --- |
| United States (standard) | $98,000 USD | $146,500 USD |
| United States(negotiated) | $91,000 USD | $95,000 USD |
| Ukraine | $40,000 USD | $48,500 USD |
| United Kingdom | $55,000 USD | $85,000 USD |
| Canada | $50,000 USD | $80,000 USD |
| Kenya | $39,900 USD | $45,000 USD |
| India | $40,000 USD | $49,000 USD |
How Much Does Surrogacy Cost?
Since surrogacy is a costly procedure, you should do research in order to find a professional reproductive medicine center providing quality services at a reasonable surrogacy cost. But how much do you need to pay for a successful surrogacy procedure? The truth is that the surrogacy cost depends on many factors; hence, there is no single answer to this question. You need to be aware of the factors that contribute to the overall cost of surrogacy.
Averagely, the estimated cost ranges between $165,000 and $240,000, even though the actual surrogate price will depend on the services a couple needs in its unique circumstances.
For instance, we have other costs such as the surrogate mother's fees, the cost of IVF, legal support fees, logistical costs (if the mother needs to travel), and costs of any specialized treatment that may be needed.
Also, you should be ready to cover egg donor cost as well as the cost of maintaining the surrogate mother during the gestational period of carrying a child. Therefore, it is necessary for the intended parents to know average price and these facts beforehand to get ready not just for the medical procedures but other surrogacy cost items as well.
Benefits of Using Our Surrogacy Services
The moderate surrogacy cost is not the only benefit you can get when dealing with Feskov Surrogacy Center. What other features make our center stand out of the crowd of the many medical facilities in Ukraine, Europe with UK and the World at large? Here are the benefits our customers get when they choose us:
A cumulative experience of more than 12 years, allowing us to master every detail of the process;
We have a wider coverage with more than 52 countries provided with our services;
We have a higher success rate of between 60 and 70 percent;
We have a positive reputation worldwide, and you can rely on it;
Personalized attention and approach to meet your individual needs and expectations;
Excellent medical services;
Excellent legal processes;
You can choose your desired child's gender;
We give you a possibility to know the egg donor personally;
We offer a complete registration of passport for a baby in your resident state;
Our experts are multilingual since they can communicate in Polish, English, German, French, and all the languages in the more than 52 states we operate in to facilitate easy and efficient communication;
We conserve the umbilical blood and placental tissues;
We transport cryopreserved eggs and embryos;
We select our surrogate mothers carefully;
Births take place in high-quality and reputable private maternity clinics;
We enable you to choose an individual sperm donor
All the benefits are fully covered in our surrogate cost. What is more, we take responsibility for all stages of the process of artificial conception, control of the pregnancy course and subsequent childbirth. Regardless of what surrogate cost in your case is, any problems arising during pregnancy will be successfully managed by experienced doctors. The entire process of surrogate motherhood will be smooth, with you being professionally supported and guided at each stage.
---
Reliability
Guarantee
Comfort
Loyal prices
FAQ
How much does surrogacy cost in Ukraine?

Depending on the tasks set, your individual reproductive parameters and the level of services, it costs from 37 to 80,000 €. For example, if you are interested in the choice of gender or childbirth using your egg, then this is 50-60,000 €. If you are interested in a completely healthy child with all genetics, then this is 70,000 €. At the same time, you will not have any waiting lines and you will receive the highest quality of guest, legal and logistics services. The price with a service with a waiting list and with a good quality of your sperm starts from 37,000 €.

How much does it cost to have a baby by surrogate?

The price varies widely. So participation in some countries with altruistic surrogacy may be free for their citizens. But there are a number of restrictions, and the waiting line can last for many years. And the maximum cost can reach up to $ 500,000. The average adequate cost of these all-inclusive programs is € 50,000 - € 70,000. These are childbirth in Ukraine, Czech Republic and Belgium.

How much does it cost to ship frozen embryos?

From 500 € to 5000 €. It depends on the country. It costs within 3000 € from the EU to Ukraine. If it is from the Czech Republic to Austria - 1500 €. And if from Hong Kong or Australia to Ukraine - 4000 €. However, a lot is determined by the accompanying documents and the requirements of the local customs services of the states through which the embryos pass.
subscribe to our newsletter