Normalizing Surrogacy in Our Society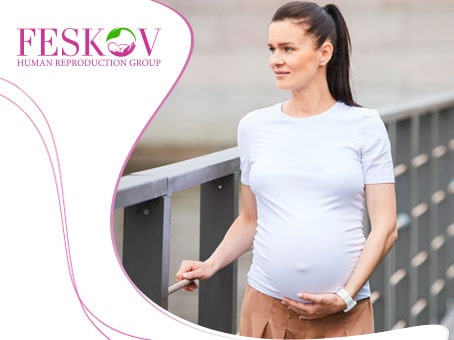 Oct 23, 2020
It happens that intended parents who are considering  surrogacy as the last way to create a family  worry about social labels associated with this innovative concept. Instead of focusing their energies on finding a serious surrogate agency or clinic, they worry that friends and family will not support this decision. Fortunately, this method of reproduction has become more common in recent years. For this, we should thank medical innovations, as well as the fact that many famous people calmly use services of surrogate mothers.
For more than 15 years, Feskov Human Reproduction Group has been helping desperate people from all over the world to become parents by implementing a variety of surrogacy packages.
 Gestational surrogacy is one of the working methods of creating a family
According to statistical documents, in the United States only, more than 750 surrogate babies are born annually. Due to the fact that this method of ART is becoming more popular and in demand, many governments are forced to revise legislation and soften some laws. However, it is still a very slow process. But, future parents who strive to find parental happiness are not frightened even by restrictive laws, and they go on a surrogate journey to more loyal jurisdictions.
There are many reasons on the agenda for intended parents to expand or start their family through the services of a surrogate mother. Some of which are:
malfunctions of the reproductive sphere, which prevent pregnancy and bearing;
when pregnancy and childbirth pose a threat to a woman's life and health;
single people, without a partner;
people with non-traditional sexual views;
impossibility of adoption, etc.
Many people see adoption as a way to build a family. But, it is fraught with great difficulties and it is not a fact that it will be crowned with success. Intended parents may be single or "too old" for the adoption committee to approve. Therefore, they have nothing left to do but consider surrogate motherhood as an alternative.
Measures to improve the surrogate position
Gestational surrogacy is currently a recognized and effective method of treatment of infertility. However, it should be remembered that the laws that govern the issue differ from state to state in the US and from country to country.
Experts recommend examining its capabilities again. And also to develop some global criteria. They should take into account legal aspects as well as medical and psychological issues. This will go a long way in promoting surrogacy as a viable option for building a family around the world.
One more thing will do a good job in normalizing the method. This is the creation by government health departments of special international agencies that will be responsible for surrogacy and the provision of recommendations. The developed guidelines will help standardize this healthcare industry and ensure that all organizations providing such services meet specific requirements.
How is infertility overcome?
Medical and technological advances in the fight against fertility issues have led to the spread of surrogacy worldwide. The most common type of service is gestational. In this case, the intended parents find a surrogate mother for embryo implantation. Embryos are made up of sperm and eggs from intended parents, donors, or a combination of both. The process of creating embryos takes place in the laboratory as a result of IVF. Then doctors transfer the best embryo to the surrogate mother's uterus.
The mind is incomprehensible by the unique technologies that make possible the beginning of a new life in artificial conditions. The selflessness of sperm and egg donors, the surrogate mother's altruism unite to produce new life in a gestational carrier. Needless to say, the child will not have any genetic connections with the surrogate mother. And in a matter of months, intended parents will receive the best gift in the world.
All these amazing processes are becoming commonplace in the medical field. The more IVF cycles are done, the more advanced reproductive technologies become. And the more "normal" will be the method of gestational surrogacy.
In the end, the most difficult question on the way is finding an adequate surrogate mother. It is very important that this woman is fully consistent with the preferences of the future parents. Feskov Human Reproduction Group surrogate mothers are carefully selected and meet all medical, psychological and social requirements. If desired, parents can even communicate with the selected candidate in person in order to make the best decision.
Celebrities and surrogacy
Many famous people indirectly draw attention to this reproductive method. They make the process even more "normal". When celebrities tell the world that they have turned to surrogacy in order to expand the family, this confirms the "normality" of the event in society. Over the past few years, the following star couples have announced that they will add a new family member using this reproduction method. Thus, they helped make the process more popular in society:
Kim Kardashian and Kanye West. Psalm and Chicago were born to a star couple from a surrogate mother. It turned out that the couple chose this method after problems with the previous two pregnancies;
Andy Cohen. In 2019, the famous American talk show host on radio and television admitted that his first child, Benjamin, was born from a surrogate mother. Thus, he broke the stereotypes that the method is intended only for spouses. Now single men can also leave their continuation;
Gabrielle Union and Dwyane Wade. The actress and basketball star added a new member to their family - a daughter who was given birth by a surrogate mother in 2018. The media reported that this decision was made after facing difficulties during pregnancy;
Neil Harris and David Burtka. The gay couple used the services of a surrogate mother and an egg donor to obtain twins, Gideon Scott and Harper Grace. This is an example of gestational surrogacy in which egg donor and sperm of the intended parent are involved.    
And the list continues to grow. This is a good motivation for future parents who are willing but hesitant to start the process. The more celebrities turn to such treatment, the more "normal" the concept itself becomes in the public mind.
Considering all the advantages of the process, however, there are difficulties. In Feskov Human Reproduction Group you can always get detailed advice on this matter. We will select the most suitable package that guarantees the birth of a baby, with minimal costs on your part!
Tags:
surrogate motherhood
celebrity
surrogacy
infertility
fertility
Recommended
Popular
Related
subscribe
Get email updates
Join my mailing list to receive the latest news and updates
Recommended:
subscribe to our newsletter