Alpha 2016 – Conference in Copenhagen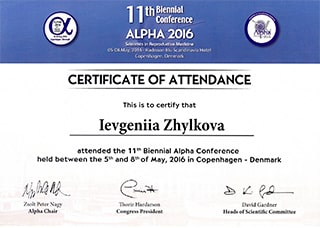 May 5-8, 2016 in Copenhagen, the annual Alpha conference was held. It traditionally gathered the world's best specialists in the field of embryology and genetics.
From the Feskov human reproduction group, the embryologist-geneticist, Evgenia Stanislavovna Zhilkova, the head of the genetics laboratory, took part in the conference. She told about our achievements in embryo biopsy and about biopsy technique. In Europe, embryo biopsy is prohibited, and similar techniques are not applied. We do embryo biopsy within the limits of some reproductive programs; it is performed at a high level which is provided due to good applied base.
European colleagues appreciated our achievements in the field of embryology, and everyone gave standing ovation for our program on gender choice, about which Evgenia Zhilkova told.
The conference allowed us to share our experience with colleagues, brought new contacts and opportunities for cooperation.
Embryology Conference in Kiev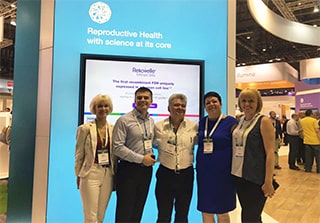 April 7, 2017 in Kiev the 9th scientific-practical conference of Ukrainian Club of Embryologists (UCE) together with international participation of "CLINICAL EMBRYOLOGY IN UKRAINE – WAYS OF OVERCOMING THE OBSTACLES" was held. The specialists of Feskov human reproduction group took active part in the event.
The ways of improving effectiveness of the IVF laboratory work, improving results monitoring as well as the conditions of embryo cultivation were discussed during the conference. The international experience on development of competence and certification of clinical embryologists were discussed, the expediency principle in IVF laboratory design and more were reviewed.
In Feskov human reproduction group a wide range of reproductive technologies such as IVF, egg donation, surrogacy are used and thus embryology issues are of primary importance. Staff members of Feskov human reproduction group participated in the interactive session which took place in the context of the conference and were giving their presentations.
The conference resulted in interesting cooperation with colleagues and obtaining new contacts as well as contributed to exchange of experience and raising public awareness in respect of the clinic work..
ESHRE 2017 in Geneva (Switzerland)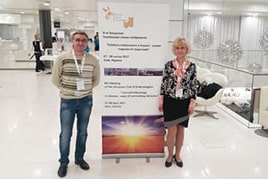 July 2-5, 2017 the International Congress ESНRE 2017 was held in which collaborators of Feskov human reproduction group participated.
The leading IVF specialists and embryologists from Europe gathered to discuss new scientific elaborations in the field of reproductive medicine. On that occasion new strategies in the area of reproductive technologies were discussed, in particular that concerns individual approach to ovarian stimulation, determining the dose of FSH and LH, peculiarities in preparation of endometrium and embryos for implantation.
Special attention was drawn to the discussion of new environments for cultivating embryos, application of embryonic stem cells for improving the quality of gametes and embryos as well as to specificities of cultivating embryos in low (5-2%) oxygen conditions. The method of pre-implantation diagnosis of embryos and the possibility of joint application of time-lapse monitoring technology and PGD were discussed. Likewise, there were other presentations devoted to reproductive medicine and embryology.
Staff members of Feskov human reproduction group, Somova Е.V., Feskov V.А., Zhilkova Е.S., Tischenko А.А. and Feskov А.М., also presented their report: "The choice of the best embryo originating from spermatozoa of men with severe male factor infertility: morphokinetics and next-generation sequencing (NGS) results".
Feskov human reproduction group applies various reproduction technologies including IVF, donation of oocytes and surrogacy. Attending the congress helped to popularize our experience in infertility treatment and acquire new information from the representatives of the leading European reproduction clinics..


ESHRE 2016 in Helsinki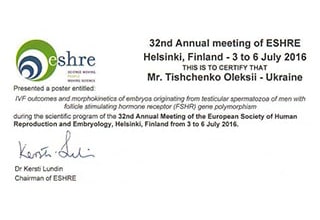 July 3-6, 2016 The 32d Annual Meeting of European Society of Human Reproduction and Embryology was held in which the leading specialists of Feskov human reproduction group participated.
European Society of Human Reproduction and Embryology aims to develop reproductive biology and medicine, strengthen academic research in the field of human reproduction and embryology and popularize the results among the general public. During 4 full days experience was shared, the latest scientific researches in the field of human reproduction were discussed, new contacts were established.
An embryologist from the Feskov human reproduction group, Aleksey Tischenko, a specialist in cryopreservation of biological objects, vitrification of eggs and embryos presented his report. The report was devoted to the results of monitoring embryos and the results of the reproductive technology programs.
The Meeting of European Society of Human Reproduction and Embryology was productive and contributed to exchange of scientific information. We successfully asserted ourselves and once again our activity was recognized at the international level.